At the TWFC we were super excited for Sarah and James wedding because for the first time this season, we arrived at our gorgeous venue in Tadley near Basingstoke. This beautiful site is also a herb farm and the scent of camomile floats around all weekend long. As the WedFest Crew got the site up and ready, we had some fantastic guest helpers who eagerly got stuck into making the site look magic! They were rewarded handsomely with a cool beer at the end of that long hot day!
With the site officially ready and raring to go we were all prepped for our fabulous first guests to arrive! Close family and friends arrived on the Friday as the groom himself, James Dillon, heated up the barbeque to sizzle up a proper feast for everyone whilst our bar quenched our thirsty guests.
After feasting and drinking and laughing their way through this first evening our guests bedded down for the night in their glam bell tents, knowing full well they'd need all the sleep they could get in preparation for the big day ahead.
And then the day Sarah and James had waited for so long had finally arrived! With the final guests arriving from 10am, everyone headed over to the bar to get the day well and truly buzzing in the glorious sunshine!
As the guests gathered in our picturesque blessing area right in the centre of our festival arena, our beautiful bride Sarah made her grand entrance in a vintage VW campervan, accompanied by her gorgeous bridesmaids – one of them being her ridiculously cute and beautifully dressed daughter. As Sarah began her walk down the aisle, one of our favourite acoustic artists Just Millie sung a delicate and heartwarming version of the Elton John classic, 'Something About The Way You Look Tonight'.
This was one of our favourite ceremonies of the summer as you could see the love between the two bursting out. But not least because the newlyweds added a gorgeously personal touch by having pots of paint to create a canvas of theirs and their childrens handprints as their very own marriage blessing certificate – a beautiful memory they can treasure forever.
After the ceremony, the Bake Off was officially on! Tea, coffee, and most importantly CAKE, was available in the Vintage Tea Party tent all day. Our personal favourite was the triple-tiered sponge cake that was specially personalized for the bride and groom – RIP summer bodies!
Whilst the guests busied themselves with either the bar or eating cake, the kids made themselves at home in their very own Arts and Crafts Tent – they particularly liked the free reign of paint and glitter!! Although our very brilliant kids tent leader Matt Anderson did end up looking like a glittered version of a Picasso painting!
Let's also not forget Sarah and James' very own Pic n Mix station, where guests could fill their bags to the brim!
Lunch was then served! Our fantastic chefs Greg and Vio from TSFCC cooked up a delicious paella, both for our meat eaters and veggies. Served with crusty baguettes, the guests tucked into their meals, lounging in the glorious sun on our hay bale sofas as Just Millie continued to serenade everyone with her sweet sounds. Being the ever conscientious and fab mum that she is Sarah had prepared individual snack boxes for each of the many kids at the festival. We were super jealous of the dinosaur shaped cheese! It was safe to say our guests did not go hungry!
After bellies were full to the brim, it was then time to enjoy the long-awaited speeches, with Sarah's dad Peter kicking it all off. We find that the best speeches from groomsmen are the ones that set out to utterly humiliate their dear friend in any shape or form, which was definitely the case for James' groomsmen – congrats guys I hope James has spoken to you since! Alongside their speech, they had huge, blown up pictures of James' stag do for everyone to relish, showing him in various states of consciousness that night…!
Once the red faces had subsided the arrival of one of our favourite ever artists, Remedy Sounds, boosted the party mood for everyone. Playing a mixture of quirky covers of well known-classics, and showing his incredible talent for rapping and beatboxing, he went down an absolute storm with the guests. Fan-girling was definitely a thing for some of the ladies, including the Wed Fest girls as always!
Something that was particularly snazzy for Sarah and James's wedding was the incredible photo booth provided by My Selfie Media – taking snaps for the guests to relive the day, or perhaps for jogging their memories if they are slightly hazy on the days events!
The afternoon was then in full swing with the amazing line-up. including; Smiley Campbell, and The Lionels all absolutely killing it! Then it was boogie time for all, where everyone grabbed a partner for the ceilidh dance performed by one of TWFC favourites, Rufus Returns– who knew that alcohol increased dance ability?! Has to be said though, there was some definite dad dancing going on from various guests!
TWFC all absolutely love their food so they were grinning from ear to ear when it was time for the main event in our eyes – cutting the cake – or should we say – the pie and cheese. Once again, adding their own touch, Sarah and James had a mountainous Pork Pie cake, as well as an impressive triple tiered cheese cake – a completely original idea that went down a storm with guests and staff alike!
After people stuffed their faces with pie, cheese and crackers, it was time for the bride and groom to take the stage for their first dance to Elbow's uplifting classic 'One Day Like This'. Once all eyes had been on them, their guests well and truly joined the party. Take a look at this snap of James and the kids, taken seconds after their running jump at him!
It was food time once again, with one of everyone's favourite feasts that the chefs cook up – Fish and Chips, with, of course, all of the essentials - tartar sauce and deliciously mushy peas. Everyone devoured their meals, lining their stomachs for a night of booze and boogying.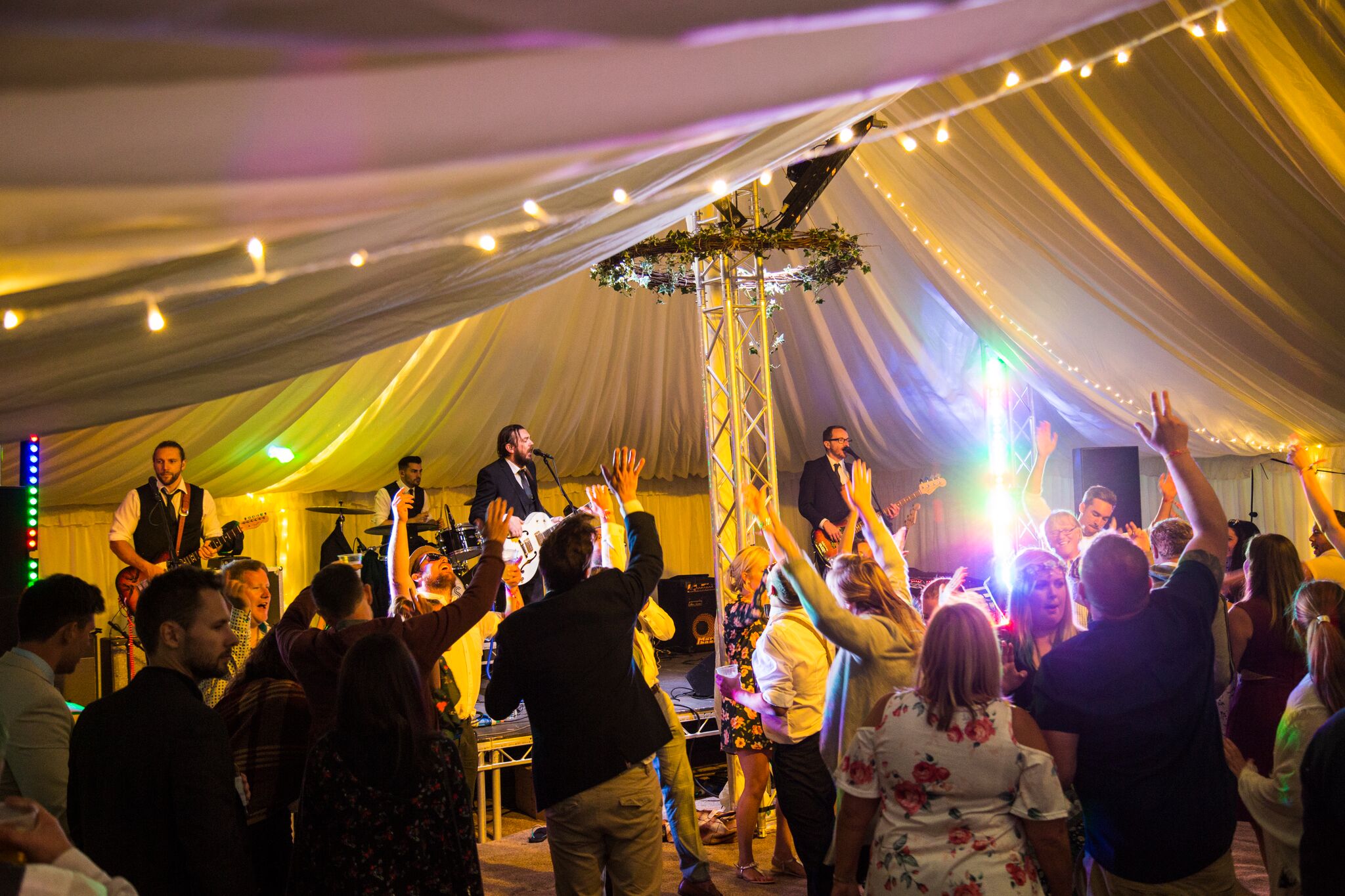 Late into the evening, it was then time for the Silent Disco, headed up by two of the groomsmen as DJ's – the battle was well and truly on to play the sickest tunes. Shout out to Sarah who went around changing everyone's channel to her favourite band, Take That, to what can only be described as a mixed reaction! So we believe in every silent disco the guests need some form of snacks to munch on whilst boogying, so we thought we'd cook up something really healthy and nutritious – of course we're joking, we cooked up some hearty cheese toasties as who wants a piece of lettuce at midnight when sufficiently boozy?!
The incredible fireworks display was the perfect end to a perfect day, before people stumbled back to their bell tents to conk out for the night. Before the Wed Fest crew headed to bed, we made sure we had fully prepped a sufficient amount of coffee for the mornings as we were predicting quite a few sore heads!
Thank you so much Sarah and James for allowing us to be a part of your special day, it was truly memorable for all!
Love Lauren, Chloe, Katy and Esme xxxx
Contact us now to book your Simply Outdoors marquee wedding
View our online brochure for full info here
email – sj@weddingfestivalcompany.co.uk
telephone – 020 3281 1070
mobile – 07909 337 016
#LetsCelebrate
​