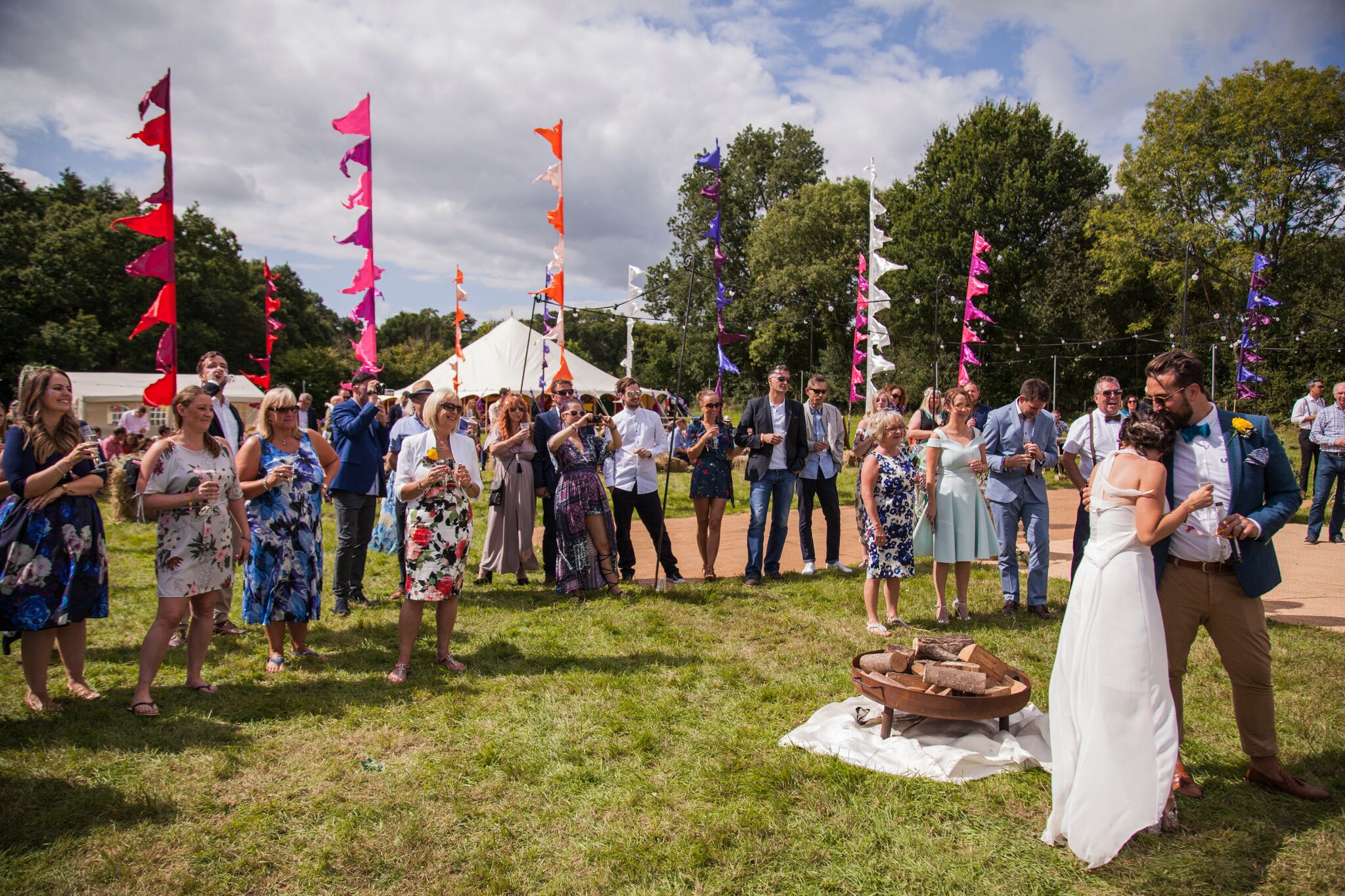 Newly Engaged; Must read advice (congrats)
Firstly, CONGRATULATIONS! This is an incredibly special time for you as a couple, so you MUST celebrate!! With each other, with your families and friends – it's pretty much an excuse to drink Prosecco non-stop for a good few weeks, so don't let the opportunity pass! Secondly, after your two-week Prosecco hangover, the dreaded word is most probably constantly on your mind...planning. Yes, planning must start eventually, but there is certainly no rush! Take time to talk with your other half about what you're really wanting as a couple, what you agree on, what you don't, and what you will have to compromise on (sorry men, but mostly talking to you here!!). Most importantly, figure out what epitomizes you guys as a couple, and find a way to reflect that within your big day. Thirdly, pick a date, don't stress though! As whether you want to get married in two months or two years, it is possible. Here at The Wedding Festival Company we will make your wedding as perfect as can be, in whatever time frame you need! We have a whopping 42 venues across the UK and counting, so we can create your dream day within as short or long a timespan as you need. Also, when picking your date...would be right in saying that one of the first things you think about when you've picked your date is...'but what if it rains on the day we've picked?!'. None of us are fortune tellers, and unfortunately, we live in England. You might have rain, you might have glorious sunshine (but the TWFC is always fully prepared, with a wet weather contingency plan!). Either way, all you've got to remember is, you're marrying the person you love and it will undoubtedly be the best day of your lives, no matter what the weather. We've cringed ourselves out with that last sentence... In the early stages of your planning, I am sure many of you are wanting to get as much inspiration as humanly possible (the best weddings are the ones that steal all the great ideas from other weddings, magazines and websites, just saying!). There are several places you can start with getting your inspo; - To list just a few, Bridebook is a great app to start with – you can even find all of our services on there too.- Bride Magazine is a fab place to start also. There are different editions for each county, and TWFC are in the Hampshire and Dorset editions if you want to keep an eye out for us.- Another great thing to do if you like seeing everything in front of your own eyes is attending Wedding fairs where you can see everything from dresses and flowers, to tasting cakes and canapes! We'd be lying if we said we haven't often been tempted to go just for the freebee canapes...- Pinterest is a fave of ours to get inspiration from, from décor to food ideas, Pinterest is the holy grail for style! And then finally comes the endless list of extras that need to be thought about. Budget, guest list, venue, musicians, food choices, drink choices (we like to prioritize this first), and the list goes on. And then there's the aspects that you probably wouldn't think about such as licensing, finding the best quotes from suppliers, and the unglamorous elements such as booking toilets and skips. These are what we call 'the boring bits' and they're the bits that we believe our couples should never have to worry or even think about.We take care of all of the above and beyond, and it is solely up to you and your partner to have as much or as little input as you wish. We hope this advice blog comes in handy, and we would love for you to get in contact with us, no matter what stage you are at with your planning! We hope you've had a brilliant Christmas and wish you all a happy new year! Lots of festive love, Lauren and Esme xxxxx Contact us now to book your Wedding! View our online brochure for full info here email – sj@weddingfestivalcompany.co.uktelephone – 01329 488280 #LetsCelebrate​
Five Factors why not to worry about your festival wedding
1. No Need to Feel the Chill! To start with, our festival season begins in May and ends in September – this is so we can ensure the months we put on festivals are the warmest out of them all. It might be that evenings are slightly chilly than during the days, but we like to think of this positively. We have campfires, blankets, and marshmallows to toast, making sure all guests feel cosy and warm. 2. The Dreaded R Word... And now for the frightful word that is on everyone's tongues when organizing their festival wedding...RAIN. Yes, we are in England, there is the chance of rain! But that is something that here at I Do, we are totally prepared for in our wet weather contingency plans. We like to refer to it as a form of liquid sunshine that occasionally graces us with its presence! As long as you come armed with a brolly and welly boots for back up, we've got the rest covered. 3. But will my wedding be legally binding after the blessing? So, if you know your stuff on our festival weddings, you will know that the blessing ceremony cannot count as 'the official legal bit'. How we see it is; save the paperwork for another day, making your only worry to be your next drink choice! We recommend that you head down to either a registry or a church before your big festival day, or the day after if you wish, and enjoy the excitement of the festival with your nearest and dearest! 4. The nitty gritty of the cost So here at I Do, it is our number one priority to tailor our services to suit your budget as much as we can. We can offer bronze, silver, and gold packages, where we can create bespoke packages for you. Additionally, our simply outdoors package has been created to suit couples who are not wanting to spend quite as much, offering more of a starter pack for the essential elements of your festival wedding. Even though we offer these set packages, every quote we put together is customized and individual to the couple, where we do whatever we can to accommodate to your requirements and needs. 5. Logistics of a field When you're choosing an outdoor venue to host your wedding, you are essentially choosing a blank canvas. Although this is great for creating a site that is personal and authentic to you and your partner's day, it means there are certain things you need to think about that perhaps you wouldn't think of if choosing a hotel venue etc. For example, we have to think about hiring in toilets, a skip for waste, a mobile fridge, power, water, security, comfort, the list goes on! However, it's a list that you certainly don't have to worry about. We have got it all covered, leaving you just the fun bits to plan! Contact us now to book your Wedding! View our online brochure for full info here email – sj@weddingfestivalcompany.co.uktelephone – 01328 448280 #LetsCelebrate​
Our brand New Wedding Brochure
The day is finally here! We have announced our brand new wedding brochure for 2018/2019, and boy are we excited to share it with you! As you may already know, we are the UK's only fully inclusive wedding festival provider, and we have five amazing packages starting at just £13,500, that can be tailored to suit your individual needs. If we haven't tooted our own trumpets too much already, we have also recently been accepted into the fantastic UK alliance of wedding planners LTD community - at least you know you'll be in safe hands with us! We thought we could give you a brief run through of our awesome new and improved packages, alongside our mouth-watering new menus. So with that said, if anyone's feeling hungry, maybe don't read the next part? Our Street Food Catering Company and The Swine Waiter have been working incredibly hard to perfect a menu that is bound to blow your taste buds off your tongue! We have been under strict instructions from our previous clients to keep some of the big pan favourites. For example, our chicken and chorizo paella, thai green curry, chicken fajitas, and of course, after popular demand, our traditional hog roasts. However, alongside these all-time faves, we thought it was most definitely time to rejuvenate our menu choices, ensuring there is something for everyone. For example, here at TWFC, we are all about keeping up with the latest trends, with one trend taking the world by storm – THE VEGAN. For both vegans and vegetarians, we are providing a variety of delicious, high quality options; from vegan shepherd's pie, to spinach and falafel burgers…we are even making our own vegan pizzas – yes, it is possible! If you're looking for more of a formal dining experience, our Swine Waiter has you covered. We offer luxurious 3 course sit down meals, with the possibility of waiter service to make your day as stress free as possible. If you read that whole section on our food options without going to get seven biscuits, then we commend you! So…onto our brand new packages. We've hopefully made it as self-explanatory as we can with our fully engineered wedding festival package starting at £22,200, with silver and gold upgrades available – pretty good we thought?! We won't bang on for too long about these as all the essential info is on the brochure, but with the amount of services each inclusive price offers, these prices are really too good to miss. We also have two other packages available that are slightly more budget-friendly, which are a great alternative if you are interested in the 'do it yourself' approach. In simple terms, we supply the infrastructure and essential services, yet you get to take control on how you decorate, host and manage your day. Of course, we still offer a multitude of services that remain the same, yet giving them a revamp so we can offer our clients only the best. From glamping, to marquee hire, to catering and bar and many many more, take a look at the brochure to get more information about all the fantastic additions we can offer. We hope this has shed some light onto just a few of the many things you can expect to read about in our fresh-faced brochure, and that you love it as much as we do! Love Es and Lauren xxxx Contact us now to book your wedding festival View our online brochure for full info here Email – info@weddingfestivalcompany.co.ukTelephone – 01329 448280 #LETSCELEBRATE
At the TWFC we were super excited for Sarah and James wedding because for the first time this season, we arrived at our gorgeous venue in Tadley near Basingstoke. This beautiful site is also a herb farm and the scent of camomile floats around all weekend long. As the WedFest Crew got the site up and ready, we had some fantastic guest helpers who eagerly got stuck into making the site look magic! They were rewarded handsomely with a cool beer at the end of that long hot day! With the site officially ready and raring to go we were all prepped for our fabulous first guests to arrive! Close family and friends arrived on the Friday as the groom himself, James Dillon, heated up the barbeque to sizzle up a proper feast for everyone whilst our bar quenched our thirsty guests.After feasting and drinking and laughing their way through this first evening our guests bedded down for the night in their glam bell tents, knowing full well they'd need all the sleep they could get in preparation for the big day ahead. And then the day Sarah and James had waited for so long had finally arrived! With the final guests arriving from 10am, everyone headed over to the bar to get the day well and truly buzzing in the glorious sunshine!As the guests gathered in our picturesque blessing area right in the centre of our festival arena, our beautiful bride Sarah made her grand entrance in a vintage VW campervan, accompanied by her gorgeous bridesmaids – one of them being her ridiculously cute and beautifully dressed daughter. As Sarah began her walk down the aisle, one of our favourite acoustic artists Just Millie sung a delicate and heartwarming version of the Elton John classic, 'Something About The Way You Look Tonight'. This was one of our favourite ceremonies of the summer as you could see the love between the two bursting out. But not least because the newlyweds added a gorgeously personal touch by having pots of paint to create a canvas of theirs and their childrens handprints as their very own marriage blessing certificate – a beautiful memory they can treasure forever. After the ceremony, the Bake Off was officially on! Tea, coffee, and most importantly CAKE, was available in the Vintage Tea Party tent all day. Our personal favourite was the triple-tiered sponge cake that was specially personalized for the bride and groom – RIP summer bodies! Whilst the guests busied themselves with either the bar or eating cake, the kids made themselves at home in their very own Arts and Crafts Tent – they particularly liked the free reign of paint and glitter!! Although our very brilliant kids tent leader Matt Anderson did end up looking like a glittered version of a Picasso painting! Let's also not forget Sarah and James' very own Pic n Mix station, where guests could fill their bags to the brim!Lunch was then served! Our fantastic chefs Greg and Vio from TSFCC cooked up a delicious paella, both for our meat eaters and veggies. Served with crusty baguettes, the guests tucked into their meals, lounging in the glorious sun on our hay bale sofas as Just Millie continued to serenade everyone with her sweet sounds. Being the ever conscientious and fab mum that she is Sarah had prepared individual snack boxes for each of the many kids at the festival. We were super jealous of the dinosaur shaped cheese! It was safe to say our guests did not go hungry! After bellies were full to the brim, it was then time to enjoy the long-awaited speeches, with Sarah's dad Peter kicking it all off. We find that the best speeches from groomsmen are the ones that set out to utterly humiliate their dear friend in any shape or form, which was definitely the case for James' groomsmen – congrats guys I hope James has spoken to you since! Alongside their speech, they had huge, blown up pictures of James' stag do for everyone to relish, showing him in various states of consciousness that night…! Once the red faces had subsided the arrival of one of our favourite ever artists, Remedy Sounds, boosted the party mood for everyone. Playing a mixture of quirky covers of well known-classics, and showing his incredible talent for rapping and beatboxing, he went down an absolute storm with the guests. Fan-girling was definitely a thing for some of the ladies, including the Wed Fest girls as always! Something that was particularly snazzy for Sarah and James's wedding was the incredible photo booth provided by My Selfie Media – taking snaps for the guests to relive the day, or perhaps for jogging their memories if they are slightly hazy on the days events! The afternoon was then in full swing with the amazing line-up. including; Smiley Campbell, and The Lionels all absolutely killing it! Then it was boogie time for all, where everyone grabbed a partner for the ceilidh dance performed by one of TWFC favourites, Rufus Returns– who knew that alcohol increased dance ability?! Has to be said though, there was some definite dad dancing going on from various guests! TWFC all absolutely love their food so they were grinning from ear to ear when it was time for the main event in our eyes – cutting the cake – or should we say – the pie and cheese. Once again, adding their own touch, Sarah and James had a mountainous Pork Pie cake, as well as an impressive triple tiered cheese cake – a completely original idea that went down a storm with guests and staff alike! After people stuffed their faces with pie, cheese and crackers, it was time for the bride and groom to take the stage for their first dance to Elbow's uplifting classic 'One Day Like This'. Once all eyes had been on them, their guests well and truly joined the party. Take a look at this snap of James and the kids, taken seconds after their running jump at him! It was food time once again, with one of everyone's favourite feasts that the chefs cook up – Fish and Chips, with, of course, all of the essentials - tartar sauce and deliciously mushy peas. Everyone devoured their meals, lining their stomachs for a night of booze and boogying. Late into the evening, it was then time for the Silent Disco, headed up by two of the groomsmen as DJ's – the battle was well and truly on to play the sickest tunes. Shout out to Sarah who went around changing everyone's channel to her favourite band, Take That, to what can only be described as a mixed reaction! So we believe in every silent disco the guests need some form of snacks to munch on whilst boogying, so we thought we'd cook up something really healthy and nutritious – of course we're joking, we cooked up some hearty cheese toasties as who wants a piece of lettuce at midnight when sufficiently boozy?! The incredible fireworks display was the perfect end to a perfect day, before people stumbled back to their bell tents to conk out for the night. Before the Wed Fest crew headed to bed, we made sure we had fully prepped a sufficient amount of coffee for the mornings as we were predicting quite a few sore heads! Thank you so much Sarah and James for allowing us to be a part of your special day, it was truly memorable for all! Love Lauren, Chloe, Katy and Esme xxxx Contact us now to book your Simply Outdoors marquee wedding View our online brochure for full info here email – sj@weddingfestivalcompany.co.uktelephone – 020 3281 1070mobile – 07909 337 016 #LetsCelebrate​
The Role of The Celebrant
Hey hey everyone, TWFC here slightly different blog post for you, we want to give you some knowledge on a key part of our festival weddings, the celebrants. Who is the celebrant I hear you ask?Well get ready to be educated! A celebrant is often defined as someone who is certified in performing a rite, in our case weddings!The great thing about a celebrant is they tailor make the ceremony to the personal life of the couple, it's an alternative way having of your service. Especially if perhaps you and your partner aren't religious, it's the perfect way to send you on your way to the married life! Some may not know but the exchanging of vows and rings isn't technically the legal part, and is solely ceremonial. The legal shebang is that you must sign a pretty important piece of paper (aka a marriage license) in front of an authorised person to make the marriage official. How we see it is; save the paperwork for another day, making your only worry to be your next drink choice! A popular choice amongst our couples has often been a registry office, or perhaps a church, the choice is yours! So how it works.....head on down to wherever you choose either a day or two before the big day, or if you'd prefer, you could do it the day after (although do consider the mighty hangover). We like to look at having the official ceremony on a different day as a hugely exciting thing – it allows you to celebrate with your nearest and dearest, before/or after you party the weekend away with the rest of your family and friends! When you've met the celebrant of your dreams whether this be in person or over skype, they will really get to know the ins and out of you and your partner. When it comes to the celebrant officiating the story of how you two met, it can be shaped to however you wish; this may be the adventurous story of how you two met or keep it as traditional as you want. The most amazing thing about the celebrants is that you can add in personal touches to the ceremonies to suit the couple to be. One of our fave weddings this season was witnessing Sarah & James' blessing, where their cutest moment of the day was them and their children each adding a hand print to a canvas - something that they can now treasure forever * idea now stolen for our future weddings! * Another highlight, was Phill & Laura's wedding, where they both previously wrote letters to each other that they would open on their 10th anniversary along with a bottle of wine to enjoy alongside! So, feel free to pick your venue wherever in the world you want and a celebrant can conduct your ceremony! Love Esme and Lauren xx Contact us now to book your Simply Outdoors marquee wedding View our online brochure for full info here email – sj@weddingfestivalcompany.co.uktelephone – 020 3281 1070mobile – 07909 337 016 #LetsCelebrate​
Emma & Lee Woolstock Festival
TWFC crew arrived back at it's birthplace, Pinkmead Farm in Botley, where SJ herself got married and created the first ever festival wedding! This time though, we were here for the 4 day marriage extravaganza of the lovely Emma and Lee. Our longest festival to date kicked off with our guests arriving with their family and friends to move into their luxurious bell tent homes for the weekend! After getting themselves settled in and acquainted with their new surroundings our bar was officially opened for business – huge cheers were raised to the fun-packed weekend ahead! Dinner time was soon upon us (cooked by the lovely TSFCC) with the smell of fiery fajitas cooked up by our master chefs travelling through the festival site. As our guests tucked into much needed grub singer-songwriter extraordinaire, Dan Eagle, serenaded the eager crowds with some sweet tunes! After some glorious singalongs last orders at the bar were called, to ensure there weren't too many sore heads on the morning of the big day! As the Wed Fest Crew were adding the extra gorgeous flowers from The Flower Girl to blessing area, guests were enjoying their breakfast and some well needed coffee to soothe their heads! With the sun shining and the guests as looking glam as can be we were ready and waiting for the bridal party to make their grand entrance. Lee and his brother enjoyed a last minute tipple before making their way down the aisle to wait for Emma! In true festival style Emma made a grand entrance in a stunning old school VW Campervan, provided by the brilliant folks at Vinnie's Vintage Vehicle! Their blessing was led by close friend Jim who had the guests roaring with laughter as tales of Emma and Lee's romance were recounted. After the special two made their vows official, the sweet tones of one of our favourite performers, Just Millie, sang out the Turtles' classic song Happy Together as bride and groom made their way through the crowds and were showered with confetti. Just Millie then headed straight for our outdoor stage for more of her acoustic gorgeousness. The glorious sunshine meant our fab guests were out in force cheering her soulful tunes and catching some long overdue summer sun lounging on straw bales. With wine on the table and their food ready to be served, it was time for the guests to be seated in our Big Top marquee! A major shoutout is deserved for the creator of the seating plan and all the decorative chalkboards! With bursts of colour everywhere and some ingenious use of old CDs this was such a unique and artistic touch to the day! Our guests were treated to not 1, not 2, but 3 delicious big pan favourites! The lucky devils had a choice of our famous paella, fiery chicken fajitas and a flavoursome chicken curry! As guests tucked into their meals, prosecco was popped and poured ready for the speeches; we couldn't wait to hear them! And boy did they not disappoint – Lee gave a heartfelt and tearful (on his part) message to his new wife and their family! We do love a sensitive soul that is in touch with his emotions – we salute you Lee!Next up on our main stage were the incredible Electric Eden! They stormed the stage for a fiery set of banging covers, getting all our guests up on their feet! Something else that got them moving was the Cocktail Happy Hour in our Bollywood Bar! Guests could sip on freshly made cocktails, created by our own team of master mixologists! The cocktails were designed to be unique to the day and our gorgeous couple with names such as;Woo-WoolonEmma-retto SoursSex in a TentPina Co-Lee-daLove and Marriage Mojito The guests lapped them up throughout the night!A face painter then took over our Bollywood Bar, decorating the faces of the guests – some with more extravagant designs than others! We love having face painters for our events, it really helps to add to the festival vibe – and who doesn't love a bit of glitter?!? Now for a part that we all love… CAKE! This time served from Mrs G's beautiful Vintage Van, guests could indulge in scrumptious cakes, washed down with a proper cup of tea or coffee – very British indeed.It was then time for Remedy Sounds to take to the stage and what a set it was – if we weren't fan-girling him enough on events before, we sure did now! He really got everyone going and even created the guests their own song, using their favourite object of the day… those whistles! TWFC crew certainly lost some eardrums in the process… One of the most memorable moments of his set was definitely the dance off – winners decided by the bride and groom of course! Apparently Strictly hasn't requested any of the guests to be on the next series – shocking isn't it?The Grooveline's set then commenced with the first dance! Their performance was unforgettable with catchy covers aplenty. This is the first time TWFC have heard this band play this season and we're now hoping it won't be the last as they were absolutely fab. If we weren't being British enough from our vintage tea party van, we certainly would be now, when it was officially time for the Fish and Chips, a firm favourite of our guests! They were served with fluffy chips, proper mushy peas, tartare sauce and lemon wedges – gloriously scrumptious. Although a lot of us are now are suffering with mild obesity, we wouldn't take it back as that food was just so damn good! The fire pits were then lit for the first time, ready in time for S'mores and the second Happy Hour of the Day. Another happy hour I hear you say?! What can we say, we like to treat our fantastic guests! At one point, Emma became our trusted mixologist, where she creatively improvised with ingredients and generated a snazzy concoction, attemping to make her fave cocktail - a cosmo. We were all pleasantly surprised and would therefore love Emma to work with us full time as our Mixologist – what do you think Emma?! Congratulations to all of our guests, as by the end of the busy hour, they successfully managed to rinse us dry of all our cocktail booze – what an achievement. It was then time for our headline act, Big Town Boppers to really rock the night away! This REALLY felt like a full-blown festival when watching the band and the guests dance the night away non-stop to their bangin' tunes – who needs Bestival?! With cocktails in one hand and a toasted marshmallow (or seven) in another, the guests were anticipating the long awaited silent disco. With headphones on and music blaring, it didn't disappoint. All of us here at I Do Festivals also joined in, as the playlists were totally infectious and impossible to not boogie to! As if that wasn't enough, the midnight snacks were served in the form of Dirty Burgers and Cheesy Chips - thoroughly enjoyed by all, particularly TWFC crew! And no we did NOT have four huge helpings of the cheesy chips… With full belly's, dizzy heads and sore feet from dancing too much, it was the perfect end to a perfect night as the guests stumbled back to their bell tent village for some needed shut eye before another fun-packed day ahead!The morning of day 3 certainly saw some sore heads; the only thing for it was our WedMary's, reviving them ready for the sports day soon to come! That's right…a SPORT'S DAY the morning after an incredibly heavy night – what champions they are, we certainly couldn't have done it!! And what a laugh Sports Day was! Team Bride vs. Team Groom certainly amped up the competition but there could only be one winner… it was of course the girls in Team Bride! Special mention to the full on battle of Tug of War, in which the girls shocked everyone and reigned victorious! Well done to Team Groom as well for being such good sports (even though you lost). Mr Charlie commenced the afternoon's music, some much needed chill time for our guests who basked in the sunshine. Whilst the adults lounged around recovering, the kids never seemed to leave the bouncy castle, which was undoubtedly a massive hit throughout the entire weekend. Our famous Hog Roast was served by the TSFCC to the sounds of the Racketeers bringing the party to life…again. TWFC seriously don't know how the guests managed to start drinking again – hats off to the gentleman who started at 10:30am with a double vodka coke! Our final headliner of the whole weekend was The Underdogs, who were personally recommended to us by Emma and Lee; their tunes were enjoyed by guests whilst they sipped on yet another 2-4-1 cocktail! And with cocktails means snacks are in order too, this time in the form of Cheese and Ham Toasties and Cones of Chips. They were perfect for the evening and finished off once again by our buzzing Silent Disco! Thanks so much to Emma and Lee for having us, we had a blast and won't forget you guys in a hurry! Love Chloe, Lauren, Katy and EsmeXxx Contact us now to book your Simply Outdoors marquee wedding View our online brochure for full info here email – info@weddingfestivalcompany.co.uktelephone – 020 3281 1070mobile – 07909 337 016 #LetsCelebrate​
Kate and Liam's Wedding Festival
Beginning my placement here at I Do Festivals, this was my first event – and what an event to start on! We headed on up to Kent, where it was all hands-on deck to ensure Kate and Liam's vision was created perfectly for their big day. For the entire weekend, the bride, groom, and most of the guests stayed in the luxurious Great Higham Barn – a charming, country cottage, with the perfect mixture of modern and traditional decor. It was safe to say the wedding party would never suffer from boredom at the weekend, with there being a multitude of leisurely activities to choose from: a dip in the wood fired hot tub, a swim in the outdoor swimming pool, or even a game of tennis on the tennis court. It was truly the VIP lifestyle for these guests! And then Saturday was upon us. The sun was shining, the prosecco was being popped, and after getting all glammed up, the guests began heading on out of the barn for Kate and Liam's special day!Starting the day off with refreshing Gin and Tonic welcome drinks, the guests chatted and mingled, along with acoustic live music, adding to the excitement of Kate's impending arrival!When everyone had filtered over to the picturesque woodland blessing area, the wedding was well underway! Guests sat on the straw bales, eagerly trying to catch a glimpse of the blushing bride. One by one, the bridesmaids would make their way down the aisle, eventually followed by the bride herself. It was then confetti galore as Kate and Liam made their way towards our 'Pimp Your Prosecco' station, for their first celebratory drink as Mr and Mrs Evans! The bubbles were flowing, the delicious canapes were gobbled up, and it was then time for the long-awaited speeches. Some hilariously embarrassing just as they should be, some incredibly heartfelt – it was the perfect mix! After stomachs had been filled to brim, the evening got into full swing. Tom Martin started his acoustic set, the outdoor games were set up for the kids (we'll pretend the adults weren't just as, if not more excited for them) and the wine was most definitely flowing. After the bride's bouquet was thrown (we had first aid kits ready for any brutal shoving from the women at this moment!), everybody then flocked to get their ice cream cone from Cole and Son's trailer on wheels. And then it was pizza time! It was a massive hit with our guests, using our wood-fired pizza oven to make delicious homemade pizzas with whatever and however many toppings guests wanted. The party really got started when, along with the DJ, our band hit the stage following Tom Martin's fantastic set (which gave him a multitude of groupies, fangirling over his incredible voice). Big Macs Wholly Soul Band did a fantastic job at getting the guests up onto the dance floor – and once they were up, it was hard to get them off it! There was an initial panic for the guests when the music stopped at midnight, worrying the festivity was over. However, we proved that the party had barely even started until the silent disco commences! Thank you for allowing us to be part of your special day Kate and Liam, and huge congratulations to the both of you. It was such a fantastic day and one that none of us will forget anytime soon!Lauren xxxx Contact us now to book your wedding festival View our online brochure for full info here Email – info@weddingfestivalcompany.co.ukTelephone – 01329 448280 #LETSCELEBRATE
Laura & Phil's Wedding Festival
TWFC headed back to Romsey's Hill Top Farm, exactly a month later since Angus and Sinead's for another fabulous wedding, celebrating the marriage of Laura and Phil. The WedFest Crew arrived early on Wednesday to transform the field into the perfect wedding festival setting all in preparation for our guests the arrive on Friday. Phil, the Groom-to-be, came to the site to add the final magical touches. Mr Charlie played at the evening soiree (aka party!) whilst the guest tucked into good old British fish 'n' chips. Cue bed-time. Guests started to arrive early at 10:00am and were met by Alice in Wonderland's Mad Hatter who towered above. Guests received personalised lanyards by the lovely WedFest girls. The cakes began to roll into the Vintage Tea Party tent for the ultimate Great British Bake Off, later that afternoon. The morning flew by and the blessing was soon upon us. Phil, suited and booted, eagerly waited for his blushing Bride who soon arrived in a magical horse and cart. As all guests were upstanding, Just Millie started to pay 'A Thousand Years' by Christina Perri as Laura and her bridesmaids walked down the aisle. Lisa the Celebrant told a beautiful story of how Laura and Phil began their Journey of Love. The letters that Laura and Phil wrote to each other, to be opened on the 10th Anniversary was a beautiful touch, which cast tears across the whole of the room – including all of the WedFest crew. The couple walked down the aisle under a confetti shower to Tom Martin singing their chosen song of 'Highway to Hell' – which is one we haven't heard before!! After the infamous WedFest Chicken and Chorizo Paella, The Great British Bake Off tent opened and the judging commenced. The hard task of judging the tremendous choice of sweet goodies was given to Laura and Phil! Some personal favourites include the Beauty and the Beast iced Gingerbread window, the layered cake, the lemon drizzle cake and the amazing unicorn cupcakes!! In third place we had the white sprinkles cake, the second place was the themed gingerbread. The final winner was the lemon cake with white roses, it was a fluffy as a cloud (never had a cake so good- sorry grandma). The magician worked his magic round the guests and had them in awe from his outstanding capabilities. From our music line-up, next was Remedy Sounds who was very interactive with the crowd as he showed us how to use his loop pedal – where he works his beat-boxing magic. There was a really special moment where we got to hear Laura's dad's speech was played through the speakers and touched the hearts of all who listened. Unusually but hilariously, the maid of honours gave a speech - which described a slightly different version of Laura and Phil's love story to how the celebrant told it! Phil took on the challenge of riding the rodeo bull and managed to hold on whilst we got this amazing snap! The newly weds, finally had a second to themselves on the dance floor, for their first dance to 'Book of Love' Peter Gabriel. The three-tier salted caramel wedding cake was cut by a replica of Frodo sword to the Beauty and Beast song – 'Tale as Old as Time'. Another addition to our music line-up was the Day of the Rabblement which was a refreshing country sound to the day. Followed by the appetising Hog Roast from TSFCC - It was a great hit once again! The nerve tingling fire act amazed the crowd with the mesmerising fire breathing!! All guests and WedFest crew watched on in bewilderment. Our headline act was the Smiley Campbell Band who brought everyone to the dance floor for some feel good hits! Not long after, all the music was silenced for the breath-taking firework display for the happy couple to watch on as husband and wife. We hope you all had the best festival wedding! It is definitely one for the books – we wont forget this one! Congratulations to Laura and Phil and we wish you all the best in your married life. Esme and Katy Xxxx Contact us now to book your wedding festival View our online brochure for full info Email – info@weddingfestivalcompany.co.ukTelephone – 01329 448280 #LETSCELEBRATE
Angus And Sinead Wedding Festival
The end of June could only mean one thing – the return to Hilltop Farm in Romsey, one of our most picturesque venues for the Wedding Festival of Angus and Sinead. It all started on Friday 29th June with a visit from the Bride and Groom to check out their finished festival site, as guests were soon to arrive. TWFC crew had been hard at work over the past 2 days building the site and adding all the last minute magic touches! The happy couple-to-be looked ecstatic as they approached the Bollywood marquee with it's fully jewelled out interior! The next thing we all knew, guests were arriving and moving into their new homes, the fully decorated glamping village, for the weekend. As the bar opened, and Mr Charlie started to rock n roll, more guests started to arouse from the bell tents to enjoy the rest of the sun-soaked evening. Our awesome chef cooked up a BBQ storm for all guests to enjoy! We laughed and danced and before we all knew it was time to hit the hay in preparation for the big day itself. We love having guests on the site the night before the wedding, it's wonderful to feel the excitement growing (and to see a little bit of prosecco flowing!). We made sure the bar was closed at 10pm so that everyone could make the most of some beauty sleep before the big day!Friday flew by and Saturday was suddenly upon us. Guests were waking up to the beautiful sounds of the outdoors and the smells of the breakfast cooking. While guests were making, themselves glam using the necessary 'glam tent', the WedFest Crew made the final preparations to the festival site. We made sure everything was pristine and perfect for the awaited arrival of the Bride and Groom, who choose to enter in style! Angus of course chose Terry the Tractor to escort him to the blessing area, looked upon by his amused guests! While Sinead was escorted in by her father in a VW Bug convertible! It's fair to say that Sinead took everyone's breath away when she began to walk up the aisle towards her blushing groom. We were so thankful for such a beautiful day for this gorgeous couple to exchange captivating and emotional vows. We spotted a few tears as Mr and Mrs Barcroft walked back down the aisle under a shower of confetti as husband and wife. WedFest Crew ensured all guests were topped up with Pimms, the perfect summer drink and Prosecco. Our head chef Joe from TSFCC was already busy in the catering area preparing Roasted Pork with all the trimmings as guests listened to the mellow sounds of the acoustic guitar player, Tom Martin. As the lunch came to a finish, the speeches commenced. One of our highlights was the dramatic, hilarious speech from the best man, James Regan. He had the guests along with the WedFest Crew in tears as he told un-censored stories of the Groom! In the dazzling sunshine, Angus and Sinead had their first dance outside, as a newly wed couple to their chosen song, Home by Ed Sharpe and The Magnetic Zeros. The vintage tea party tent had a beautiful selection of homemade cakes, which were sampled and enjoyed by all guests throughout the afternoon. A big hit was the carrot cake made by Tina Cooke, as it all disappeared with only a few crumbs remaining! The sun was shining and so Remedy Sounds, Rufus Return and Just Millie played on the outdoor stage for everyone to enjoy whilst soaking up the sun! How yummy was the paella?! Chef cooked up a cracking paella for all guests to dig in to and re-fuel themselves to dance the night away to the fabulous Smiley Campbell Band. The drinks were flowing, the music was pumping and the dancing shoes were in full swing. The night carried on into the early hours as everyone partied to the Wed Fest's famous silent disco. As the night closed in and the party wound down, only one thing was for sure, Angus and Sinead had had the most amazing Wedding Festival. Free-spirited fun, sun, laughter and dancing, and as all the last-standing guests stumbled tired towards their tents, the WedFest Crew stumbled towards their beds too excited to wake up early and hear everyone's stories and laughs from the day before! A big congratulations to Angus and Sinead, we were blessed with beautiful weather, amazing company and an incredible weekend. Thank you for letting us host your festival and we hope you enjoyed every minute of your weekend as much as we all did! Katy & EsmeXxxx Contact us now to book your wedding festival View our online brochure for full info here Email – info@weddingfestivalcompany.co.ukTelephone – 01329 448280 #LETSCELEBRATE
Meet our interns part 2! Here's Lauren!
Hello Hello! I'm Lauren and I've recently just finished my degree at the University of Exeter studying Drama – being horribly plummeted into the real world of adult life! I've gone from getting up at 2pm in the afternoon and watching endless episodes of Eastenders and Love Island, to smashing my phone up every morning when the alarm goes off at 6:30am for placement! But asides from the early starts, I am loving the start of my 6 months with I Do Festivals. The events industry is something I've always been interested in and excited by, and I Do Festivals seems to standout from the rest (the managers haven't paid me to say this I swear). The company seems so vibrant and creative, and has ideas that are so innovative for events that I've already started internally planning an event for myself!!For anyone who knows me, I am the biggest organizational freak you could ever meet. I start to twitch if anything is even slightly unorganized/unplanned/disordered/messy…the list goes on. My beloved friends often label me as either a control freak, OCD, unnecessarily bossy, and apparently I always think I'm right - obviously I would disagree but I guess that probably proves them all right. I'm really excited as I've just found out I've received a First Class Honours in my degree when I graduate next month, but am pretty sure I only managed that from relying on my laptop's thesaurus throughout my dissertation to make myself sound smarter (pretty much what I've done when writing this blog too)! I'm massively excited to see what my time with I Do Festivals holds, but if my first week here is anything to go by, hopefully we're all going to have a blast! Hopefully see you all in a tent somewhere!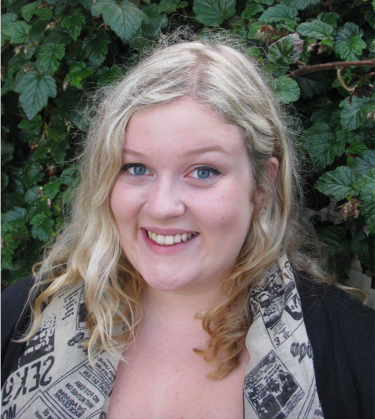 Our amazing interns part 1
We are delighted to have been able to offer up 5 work placements to recent graduates at our company as part of our ongoing passion for developing the talents of young people wanting to create festivals. So here we present the first of our brilliant girls who have joined us for a summer of fun! Hello! I'm Rowan M, or RoRo to avoid confusion with our Managing Director, Rowan B! I'm a 22-year-old Masters Student at Bournemouth University and am beyond excited to be joining The I Do Festivals Group! My first few days here have been fun filled and action packed, setting the tone for the rest of the amazing summer season to come! As a kid, I was obsessed with organising everyone around me, from bossing people around at playgroup to organising talent shows in my garden. Back then, my only knowledge of wedding planning came from the 2001 film "The Wedding Planner" and all I knew was that I needed to be Jennifer Lopez' character when I grew up. However, the idea of being an event manager, let alone a wedding planner, wasn't exactly a common job title in the UK back then. It wasn't until about ten years later that I realised things had changed, and I found myself immersed in the new wave of wedding reality TV shows such as Don't Tell The Bride and Say Yes To The Dress, both of which frequently feature professional wedding planners. So after my Drama degree, which taught me more transferable skills which can be applied to events management than I can name, I decided to pursue the dream and start a MSc in events management at Bournemouth. A few months down the line, and here I am! I am ecstatic to be joining the team this season, and am looking forward not just to weddings but to all of the events we are running this summer, which are already looking amazing! Even though I've nearly completed my masters, I Do Festivals can offer me experience which I really couldn't learn anywhere else of real life events. I'm also super excited to start getting to know the rest of the lovely team, who have welcomed myself and all of the new recruits so enthusiastically that even at this early stage, not a day goes by when I don't crack up with laughter. Happy Summer of 2017!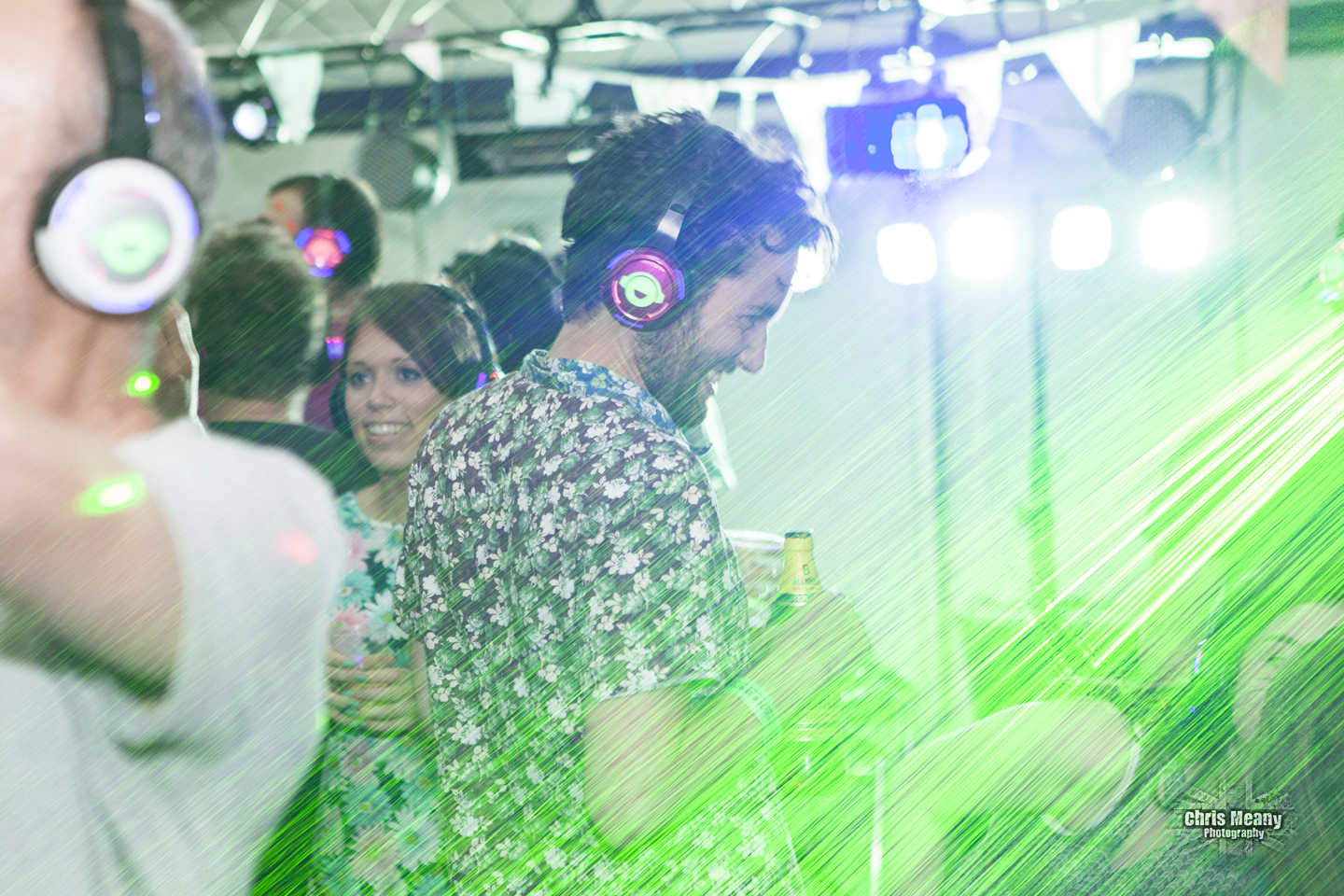 Max's golden rules for the perfect party playlist
As the Creative Director of I Do Festivals I have been spending quite a bit of time putting together the playlists for our Silent Discos. I love putting together playlists that will make people get up and dance for hours on end because it is exactly what I expect (and quite often demand!) of a great night out. In putting together these playlists it got me thinking about some important rules to making a great party playlist that I thought I would share! These are by no means definitive but are a fun few ideas that I like to follow when thinking about what can and can't go in a party playlist! How fast can you side step to the song?Let's be honest…when you are at a wedding and dancing the majority of people are not going to be pulling slick dance sequences like Beyonce or Bruno Mars! The least you can hope for is darn good side step with a bit of a booty shake. Then everyone can take it from there in whatever direction or shape their body wants to throw! So it's key to make sure that the songs you choose have a high energy beat that can get even your granny moving! I often get requests for songs that I just have to say no to because as great as songs as they may well be they aren't going to get people moving. And that is key! Singalong factorAs a DJ and also as a punter there is nothing better on the dancefloor than the rush of when a classic singalong tune comes belting out the speakers and the crowd goes mad! That moment when you realise what the track is and turn to your friends with a big scream of delight is such an adrenaline rush and I am always aiming to give people that buzz. So often that comes from putting on big well know banging tunes whether old skool classics or current earworms. Everyone loves a number they can sing along to! Which brings me to my next point… Personal preference has to go out the window!If it were up to me I would probably play a mix of Kate Bush, Tina Turner and Grace Jones all night long! But that is a recipe for a party for one! Even at a party of my own I know that combination is only going to satisfy people for a couple of songs. So you have got to play to what the majority of the crowd wants if you are to keep the people happy. Give them what they want but sometimes what they didn't realise they needed!! Some of my favourite moments have been playing a song that you had forgotten even existed but is a total classic. The look on people's faces when they realise what it on it's way is priceless! These are just a few of my golden rules for putting together the perfect party playlist!The question now is…WHAT ARE YOURS???​
Why we love the poetry takeaway!
We have recently been introduced to the amazing people at The Poetry Takeaway and we want to share the love with you all!! The Poetry Takeaway are a brilliant collective of poets who turn up to events in a converted burger van where they cook up poems as 'Poetry Chefs'! What we love about them is that all of the peoms they write in van are inspired by talking to members of the public who come up to the van and place an 'order'. They take your ideas, stories, hopes, dreams, nightmares and musings on the world to form a personalised poem especially for and about you! Their reputation for making heartfelt, true and delicate poems formed from the lives of people they meet reached national ears and eyes when their poets Laurie Ogden and Laurie Bolger wrote and performed poems for a series of adverts for Nationwide. Both of these show off Poetry Takeaway's unique way of combining laughs and tears. Laurie Bolger's poem about the small traumas and joys of living with a loved one will be reminiscent to anyone who knows they give side eye for days at finding beard hairs in the bathroom sink! And you can watch it here Laurie Ogden's poem created with a young man called Gavin for his mum on Mother's Day is a perfect example of how personalised their poems can be. You can just see in his mum's eyes how much it means to her to have had a poem written about her. You can also watch that one here but be warned I have yet to get through it without being in floods of tears! Not only are the Poetry Takeaway gang brilliant at creating such personalised poetry they also give brilliant young artists the opportunity to show off their skills and use their creativity on regular paid jobs. A rarity in the arts world believe me!! Laurie Bolger said in an interview she finds working with Poetry Takeaway "opens up new ideas to me constantly and just meeting people, having a chat and hearing their stories is the most rewarding job in the world." Giving young performers great performance opportunities is exactly what we love doing at I Do Festivals too which makes us love these people even more! We can't wait to bring Poetry Takeaway to our festivals over the summer because we know they will bring laughter, tears and joy. They are perfect additions to bring a personal touch to your Wedding or Corporate Festival. We just know that you are gonna love these guys as much as we do!​
For those of you that know me well, know that I can pull off shizz and I am reasonably good at festivals. However, one thing you will also know is that I am not to be trusted with a secret. Not because I will maliciously gossip about it, just that the moment I am told I can't say something, a trigger goes off inside me and my vocal chords grow arms and legs, leap from my throat into my mouth and start to ply my mouth open ready to unleash its worst! This is of course all going on while my brain is still blissfully unaware of the consequences of the knowledge of said secret. Actually, thinking about it, that's not just with secrets, must try harder… So, it comes as a spectacular surprise for me that I have been able to contain myself, vocal chords and motor mouth for a few months before I can formally announce our new Creative Director. Ok I do have a slight confession here that I am writing this a few weeks before his start date and yes I do have pangs of guilt running through me in a very pleasurable way. Let me introduce you to my former guilty pleasure and now formally appointed Director of our group, Mr Max Lindsay. Max joins us having worked in the arts for 10 years. During his time and I can speak from personal experience here, he has directed and delivered some exceptional first class performances. Max began his career as an actor performing at various major theatres including the Royal National Theatre. He made the move to directing and creating plays when he joined Nuffield Southampton Theatres. During this period he directed over 18 plays including commissioning 3 new plays and working with world-renowned writers such as Philip Ridley and Evan Placey. In the last year he has been working on plays in and around London including 'Cargo' at the Arcola Theatre, Broken Gargoyles at Theatre 503 and Snow White with Duncan James and Lesley Joseph. He bring his keen eye for artistic detail as well as wealth of brilliantly creative contacts to the company. Max's role as our Creative Director for The I Do Festival Group is two-fold. Creative in terms of site design, theme and look across the group, but equally assisting us to expand into commercial festivals. We aim to work very closely with local councils to deliver all sorts of events over the next five years from food festivals through to arts festivals. These community based events are something that we have wanted to work towards for some time now, the issue has always been the financial risk of funding core infrastructure. The good news is that now we own the majority of the infrastructure the whole project becomes significantly more de-risked. We are aiming to get ourselves into the position whereby we can deliver an awful lot back into local communities other than just the delivery of the event. Max will also be working and developing our relationship with our corporate clients. Corporate festivals are fairly new to the market and we are hugely excited about the events we have booked for 2017. We are also very much looking forward to nurturing and expanding on those client relationships. Ok enough about the boring stuff…What can I tell you about Max?! Here's the low down and my brain has engaged prior to typing! I have known Max personally for five years now, he is one of the most enthusiastic, passionate and driven people I know. He is extremely hard working and a stickler for perfection. He is incredibly talented and also of course, as you can see, totally gorgeous with an infectious infamous laugh and an outrageous sense of humour. He also loves a good G&T! He is just perfect for us and we hope that we will be as perfect for him. So, we would all like you to all join us in Welcoming Max to the team. We wish him the very best of luck in his career change, we know he will absolutely shine. Love out SJ xx #LetsCelebrate​
I love getting an enquiry from a Groom-to-be, there is something I can't really put into words about it, just makes me warm and fuzzy inside. Matt was and as we have come to know him, still is, Mr Enthusiastic. However, I don't think that it is possible that he could have been more enthusiastic about anything more than marrying the beautiful Kylie. These two were just born to be together as those of you that know them will vouch for! Initially they wanted a central London location with street food stands and live acts on all day. However, not sure their 200 guests plus could have all camped in central London, so they got hold of us and we talked through venue options. In the end, they opted to bring their family and friends down to our Romsey venue for not only a day, but a weekend away in the beautiful Hampshire countryside. They were a scarily relaxed couple, the brief, " We would like food, a lot of food and when we say a lot of food, think of a huge amount of food per head, and then triple it, our friends eat…a lot. We would like a fully stocked bar with great beer, prosecco and shots, lots of shots, in fact we have a Jager machine we will gift you, our friends drink…a lot. We really want some fantastic bands on that we can all party to day and night, our friends like to party, they like to party…yep you got it…a lot"! So there it was, the brief in full, no really it was. The rest of course came as we went along the planning journey of which we sincerely loved every moment of, but these guys were just too cool foe school! I remember asking Kylie what her thoughts were on festival flags colours, her answer, " Colorful". You know that your couple is loved by their friends and family when they get as many favours done for them as these guys did. One of these being their very own Grad-Fest brew! Their good friend Senan is a brewer and had made a signature IPA as part of their welcome drinks for the guests. To note just a few other favours, their friend Steve was the videographer for the day and created an amazing 1 second video montage, Neera made the wonderful chapattis everyone scoffed down with their curries, Jeanette who baked the most glorious wedding cake with Matt and Kylie on top, (not literally) Matt L for the pickles, Dan for the website and boards, Kylie Mum June collected pieces of bunting that had been made by guests and stitched them all together, Joe concocted the much needed Bloody Mary's the morning after! These bloody Marys were so damn good we've actually taken on the idea for future wedding festivals and calling them 'WedMarys', clever right?! There were so many other lovely nice touches created by their family and friends, sorry if I have missed any of you out! As expected Matt and Kylie's blessing was as unique as the both of them. Kylie arrived in a beautiful vintage VW Beetle owned by the lovely Bazz, with their guests clapping and cheering to greet them in true Wedfest style. After I had re-arranged Kylie's garter, not often I actually put my hands up a bride's dress, she stood up donning her vintage gown, so I could really get a proper first glance at her. To be honest, she is one of those girls who could have turned up in a bin bag and still looked stunning. As it happens, she didn't and I have to say looked like something that had just stepped out of a 1950's movie set. The blessing area at our Romsey venue has the most idyllic back-drop with an arch made out of intertwining birch all set in front of a woodland area, the perfect setting for this beautiful wedding. I walked the bridal party down to the first archway which had been decorated in foliage and flowers, Kylies and her Father eyes were firmly on me waiting for the signal. At this point I am really glad I had my sunglasses on, as to say I had welled up, would be an understatement. The guests were now silent in anticipation too get a good look at the blushing bride. The signal was given and off they went down the aisle, just as practiced, to a stripped back version of Sweet Female Attitude's 'I'll Bring You Flowers' performed and rearranged by the incredible Just Millie, the couple are huge old school garage fans so it just made sense to have this little touch on their wedding day. Matt cried (in true Matt form) from the moment he set eyes on Kylie - I think that was maybe the fourth time he'd already cried that day? Their celebrant - a good friend of theirs Shaun - led the ceremony, quite frankly, he was legendary and I think he should take this up for a living! The ushers, Craig Livingstone and Charlie Beety, were on hand with a bottle of prosecco to keep topping up the HUGE hip flask they had brought Shaun to calm his nerves. I mean look at the picture, when I say huge I mean huge, it had everyone in stitches. No ordinary wedding song or hymns here either folks, they had everyone upstanding to sing none other than Bob Marley's 'One Love', the whole thing was just magical. I think the ceremony went on for about twenty five minutes and most of us cried for at least fifteen of those. In fact, I still cry when I watch the video outtakes now, straight up! Dan eagle sang a cracking rendition of clean bandit and the whole blessing could not have gone any better, it was everything it should have been, a perfect ceremony to seal these two love birds together even more. The Line-up for the day, other than food and more food, was quite incredible with back to back artists and bands from the moment the blessing ended until 11pm that night. The music kicked off on the Haybale stage by the gorgeous Just Millie followed by Dan Eagle, both playing a mixture of their self-penned numbers and covers. They are both incredibly talented musicians who know how to entertain and really get a party started. We are always over the moon when they confirm another wedfest gig for our couples. Now try to imagine, just for a moment, now that I have started to describe the couple in some detail what their first dance was. Actually, forget that, you will never guess and neither will you guess what happened during it. The Lovely Lizzi, another fantastic friend of theirs was totally on this along with the bridal party. So let me set the scene, the couple are introduced and the Baywatch theme tune starts to play as their chosen song. Lovelingly they look into each others eyes as all of the guests gather round to oooo and ahhh over the newlyweds and then this… Yep, you are not seeing things, we stormed the marquee with over a hundred blow up inflatable floats Baywatch style and the guests went wild! That was different eh! You know how we like to embrace our couples individual ideas, that definitely happened! Next up was RemedySounds, this guy has played every single one of our festivals to date, not only is he massivley talented but he gets the party started like nobody else can, and today was no exception. As the evening drew near the music moved inside with The Butterfly Collective driving mod sound to the main stage with killer tracks from The Who, Weller, The Jam, Small Faces and more. These guys know how to party, they like to party, so they were certainly a perfect band to have on second billing! Friday I'm In Love as we first knew them headlined the event. Now, a little word on the headliners, when Kylie and Matt first told us about them, we were all a bit confused, so when we found out they going to be performing at Glastonbury, Si and I just had to go and see for ourselves. Their style is 'Masseoke' which -if you haven't heard of it before - is karaoke on mass basically. From the moment we saw what they did to a crowd, we were one hundred percent convinced that they were just the perfect combination for the headlining act. They perform all the big classics that everyone wants to hear after a few drinks, but also there's a huge screen on stage with all of the words on that means the crowd can sing their hearts out along with the band. So although initially we were not quite sure, we were sure as hell proved wrong, they rocked! Matt and Kylie have a love for Dirty Dancing, the film guys, stop your minds wondering! Of course the classic signature track "I've had the time of my life". So much so that on Kylie hen weekend her girls surprised her with a group lesson for them all to learn a dance routine to be played out on the big day. Girls, you did not disappoint! From the moment I heard Masseoke start to perform this, I knew your time had come! But were you going to actually do the lift, there was a big bit of me that wanted to run in and say nooooo, don't drop the bride! But you had this didn't you girls! It was nothing short of spectacular! Then you only went and upped the anti by lifting Matt! As if running in with floats wasn't enough, this happened and it was epic on every level! I feel we need to talk about food a bit more, one of my favorite subjects for those of you that know me. Ok are you ready for this?! Burgers, chicken and chorizo paella, fish chips and mushy peas ( none of those garden peas in sight, pointless small green things nobody eats) Indian chicken curry, hog roast, and cheese toasties. Ladies and gentleman and the good people of Grad-Fest, that was 1450 portions at one wedding. Ok they were half portions, but to be honest, we don't really do half portions. Matt and Kylie were right, you like your food. On top of that we had the Great British bake off tent open and the cakes were being eaten as quickly as they were being delivered. I am not sure how you all stay looking so mighty fine. But I feel I should congratulate you all and off course The Street Food Catering Company for quite simple a remarkable effort! A huge part of Kylie's life is the volunteer work she does for Radio Lollipop back in London, so this was also very prevalent on their wedding day. Guests were asked to donate anything they could during the day for the street food and the final figure was a whopping £220.20. In the months running up to the big day, Kylie had planned a little prank on Matt, pulled off with help from the Wedfest crew of course, Matt's beloved old flip flops (that Kylie hates by the way) had gone 'missing' from their house in London, but where on earth could they have gone…?! Well, have a look at the picture below…haha, love it! Matt was ecstatic and spent the rest of the wedding wearing them, much to Kylie's dismay! Following on from Masseoke the silent disco started in full swing, three channels of music being played into the small hours with guests dancing all over the venue from the marquee over the camp fire and fire pits which were roaring. Grad-Festers, what can I say? You certainly knew how to party, you were all absolutely beautiful people and we enjoyed hosting you all so, so, so much! Thank you for being such a lovely group of people, Matt and Kylie are very lucky to be surrounded by so much love. Steve, your video's have been fantastic, you are also a legend and we really hope to work with you again Matt and Kylie, thank you so much for choosing us! You were a total dream to work with and we were so happy to be part of your big day. I think it's safe to say it now….We have a Grad-fest baby on the way! Congratulations guys, we are all so happy for you! Love out The Wedfest Crew xxx #LetsCelebrate Watch the video here​
Emily and Nathan's wedding venue in Botley hold as sentimental place in our hearts here at TWFC. Our very own SJ and Simon tied the knot here at their very own wedding festival a few years ago. In fact, it was on this very site where they masterminded the idea for our company. Needless to say we absolutely adore working at this venue so we were especially excitable for Emily and Nathans day! Emily and Nathan's wedfest was what we call a DIY wedding festival! Put simply, that means that they brought in a strong crew of their own friends and family to help put together and take down the site alongside our team! Putting on a festival of this scale is A LOT of work you know and often even our own couples aren't aware of how much goes into the build until they arrive on site the night before. One of our favourite parts of this job is to see the budding couples' eyes light up when they see their venue all ready and decorated for the big day. Emily and Nathan's crew were awesome and all worked so hard! By the evening of the first day we were well ahead of schedule, something that can often be a rarity for us! By the second day of site build we had the main structures up and decorating was set to commence. We just love adding our creative flair to proceedings and it's this magic that truly transforms a field into a festival! I was really impressed with how the site was looking and as I added the final touches to the locations of the festival flags it gave me a good moment to reflect on how truly stunning our Botley venue is. I've got to admit, every single time a couple of ours gets married a tear (or two) is shed by me, however this blessing made me cry like a baby due to the fact that Emily walked down the aisle to none other than the beautiful 'at last' by Etta James, a song that I've always fantasized over having at my own wedding, it was a beautiful moment. Oh and this was just after she had arrived in true festival bride style in a vintage olive green VW camper van, we really do have the coolest brides, even if I do say so myself. Emily's dad sadly passed away earlier in the year and as a tribute to him, Emily and Nathan decided to name the bar 'Pete's Bar' in his honour. We had two local ales on draft for them from Flower Pots Brewery as Pete was a big real ale fan, they even got a beautiful hand drawn sign made as you can see below. It's the little personal touches like this that really make every wedding festival different. A field and marquee provides you with a blank canvas for your imagination and adding your own touches and personal memories and photographs really can make all the difference. It's your personal wedding festival and we had certainly made Emily and Nathan's theirs. Of course, with the help of their hard working crew (and ours) As the night drew in and the sun started to go down our magnificent cocktail waiter Joe arrived, cocktail shaker and muddler in hand! This was actually the first time we'd been requested to offer cocktails at a wedding but boy did it go well, we even managed to take five minutes out ourselves and enjoy a mojito, I tell you, after three 18 hour days in a row those mojitos tasted heavenly! The cocktails went down so well that we've now decided to make BollyBar into a travelling cocktail bar outside of wedding season, I mean just look at the picture below, it was just meant to be right?! Those stunning ethnic throws may be hard work to hang up but they are a joy to behold. Try taking a moment to relax on those hand painted beds too, the perfect chill zone for a mid afternoon nap ;) To stick with true untraditional wedding festival style the couples cake was made up of lots of mini Colin the Caterpillars as well as several larger ones, it was true childhood nostalgia and really did make us giggle. The unconventional is what we strive in here at TWFC, who wants to be normal?? The lovely Tom Martin kicked off the music for the day, his vocals are always on point and today was no exception, everyone was starting to get in to the festival spirit straight away. The weather was absolutely stunning also so we got Tom to perform on the hay bales outside the main tent. The Hay Bale sessions we're calling them next year, weather permitting of course!! The sun was up, the Pimms was in full flow and the music was taking us through the day into the evening sessions. The Smiley Campbell Band took to the stage for our first evening session and it was the first time I'd seen them play at one of our events and blimey did they raise the roof. Lead singer Molly had everyone mesmerised with her big beautiful voice (not one you'd expect to come out of such a petite little thing), and the musicianship was just awesome, they were seriously rocking the disco vibes, much to my excitement!The live bands are what really make our events special, watching everybody slowly head towards the tent and start throwing their best shapes is always a day highlight for me! I managed to take 5 mins out to have a quick drink and watch the festivities (and the dancefloor) from a far. Our caters we're starting to prepare the evenings food, freshly prepared stone backed pizzas!! It was the first time we've had fresh pizzas made on site and all I can say is, I hope we find an excuse to have them at every event!! I like mine accompanied with a large dash of Tabasco sauce, how do you like yours?The sun was down and we were now in full swing into the evening entertainment, Molly was still throwing her shapes on stage and the stunning tent was now rammed with eager dancers, just how we like it the best!! I nearly got caught dancing myself at one point, unfortunately for me our bar was really busy by this point so I was tasked with re-stocking the fridges, Emily and Nathan's guests sure did have a good thirst, that'll be the dancing I guess! Another huge perk about this venue is the land is owned by the lovely Kings family who not only own the land and the equestrian centre on site but also a firework shop…and boy do they know how to put on a firework display. These guys absolutely smashed the firework display for Emily & Nathan, every time we thought it had finished another flash of light rocketed in to the air and had everyone fixated on the illuminated night sky. What a perfect finale (almost) to such a magical day. Ever thought of having a firework display at your wedding? I honestly couldn't recommend it enough!! Last but certainly not least came the silent disco and as always this got everyone on their feet for a good old boogie & sing-(or should I say screech)-along, with SJ rocking her cheesy playlist again and getting all the guests going. Sometimes when we first mention the Silent Disco our couples can be a little off put by the idea but if you have ever attended or been a part of one you'll understand just how much fun they are! The beauty of having a silent disco in a field is that you are not just limited to dancing in a room (or marquee). We had everybody up and dancing around the hay bales and the camp fires! Being careful not to get too close to the fires of course! It gets to the point every wedfest, where everybody is all danced and partied out! This is a perfect time to relax and reflect as the hardened party goers are still burning out their energy! The camp fires make an excellent place to sit and chat about how wonderful the day was and also a great chance for us to hear everybody's stories form the day! I loved sitting and chatting with Nathan and Emily's family and friends and hearing how much everybody had thoroughly been blown away by the day! It happens every time, it's just so hard to really explain what the wedding festival will be like until you are there. People always just expect a marquee in a field and get completely blown away by the reality of a fully functioning music festival! Same time next year? As the final stragglers stumbled off to bed and the camp fires were being extinguished I took one last look around at the stunning lights in the dark. What an absolutely stunning day for Nathan and Emily, the friends, family, food, fun, music, dancing.. I could go on forever. I really do wish we could so this every single day. The obligatory bacon baps we're served up for breakfast with the odd bloody mary being spotted for those with a slightly sore head before everybody slowly packed up their tents, or just left the behind if they we're lucky enough to be Glamping with us ;) For us then it's just the pack down to go, it's not as a depressing task as it seems when the day before was so spectacular. Another happy couple for us, I'll be keeping hold of this smile for weeks. Love out SJxxxxx #LetsCelebrate​
Ok, so there are certain brides that know exactly what they want, when I say exactly, Sarah Dack was absolutely no exception. As little girls, we all play in our school playgrounds taking it turn to be the bride, (I am talking duffle coat hoods over our heads using the rest of the coat to act as a veil). I am absolutely certain that from this age, the lovely Sarah had her plans and not much had changed! Simon took the original call from Sarah as I was out at a venue, from memory the hand-over notes were along the lines of…" You are not going to be able to get a word in edgeways, but this gal loves us and you are going to love her". The next few months we did however exchange a few thousand emails, not all wedding related, to make sure that Dackfest was the real deal for both Sarah and Chris. We met up for food tastings and prosecco which you must understand is obligatory if you are one of our couples. The weather leading up to Dackfest was slightly unsettled, but in true Wedfest style, when the Saturday morning arrived, we could not have hoped for a more beautiful stonker of a day. Thinking back, it may have even been the hottest day of the summer. Sarah and Chris opted for a set colour theme of dazzling white and yellow which complimented the venue perfectly. Every shade of yellow was chosen from the flowers, to flags, cakes, bridesmaid dresses, the table confetti, this was colour co-ordination at its best! I never did ask Sarah what colour underwear she was wearing, I am kinda hoping she had a yellow and white thing going on, but upon reflection, the girl was far too classy for that! The atmosphere was electric as guests waited in anticipation for the arrival of the bride. Chris and his groomsmen were extremely cool customers, totally taking the whole thing in their stride, all looking rather gorgeous I should add! Nick Myers, their celebrant, was in position and guests were asked to take their seats on the perfectly laid our bales, with an aisle of shepherd's hooks, lanterns and bridal flowers all overlooking a stunning lake with wait for it…. yellow flowers all over it! Nothing to do with us, it just happened. Of course, we did try to claim that the Wedfest crew had positioned them all perfectly. I don't think Chris and sarah actually bought into that one, it was worth a try though! The arrival of babe, aka Debbie Dack, Sarah's Mum, was quite a spectacular one! This chick danced the whole way down the aisle and then we knew it was only moments before Sarah and her girls arrived. Just Millie was playing gentle acoustic instrumental songs ready to start to perform for the bridal entrance. Then, we saw it, my faithful bug, being driven by Paul Buttaci (Sarah's Father) across the venue, it was her moment, everything she dreamt of, not a duffle coat in sight, just a stunning beautifully laid out venue ready for Sarah to wed her beau. The Guests all started to raise the roof as the bug drew closer, clapping, whistling, cheering erupted. I am pretty sure (Sorry Chris, I know you are super cool, but hey modern men and all that) that Chris was feeling slightly emotional and this point. To be fair, we all were! I will be honest, I do get planners rights, so I had seen Sarah's dress. But as she got out the car, we all stopped for just a moment with our jaws dropped. Now, all brides to us are beautiful, most people to us are beautiful, but by golly, this bride had it going on! A stunning combination of natural beauty and elegance stood before us and we were all speechless. Yes, even me, it happens, not often, but this is one of the occasions even I was lost for words. We did have a rehearsal the previous day, with her three girls, Sarah Dimes (Maid of Honour), Hayley Snishko & Siderah Shafak, named by me as the three amigo's who seamlessly got straight into position ready for the big entrance. Nick Myers asked everyone to quieten down and be upstanding for the bride as I moved everyone down to start of the aisle. The nod was given and Just Millie, who by the way has the voice of an angel, started to sign " All of me" by John Legend. At the precise moment, I backed away and off Sarah, and Paul (Dad) went on their walk down the aisle. The ceremony was perfect as the sun shone down on the couple as they exchanged vows and rings. All beautifully ended with Just Millie performing " Happy" By Pharell Williams as the couple walked back down the aisle to a bombardment of confetti, clapping cheering with a glass of prosecco to greet them at the other end! The line -up for the day was kicked off on our outside stage called the Haybale stage. This stage offers the chance for guests to relax in the afternoon sun, while being entertained by some of the South Coasts finest acts. Just Millie was very quickly transported over and she played a cracking set to open up the festival and set the scene for the day. Guests congregated around the couple to congratulate them while being served an array of canapes and sipping prosecco. Next up was the stunning Khaleda Brophy-Harmer leading the brilliant Day of The Rabblement who performed a mix of fabulous foot tapping English folk. Khaleda has the most enchanting, beautiful and memorising voice, backed up by Danny Harmer on the squeeze box, Sean Brophy on bass and Mac Brown on guitar. If you haven't heard these guys before they're an absolute must to check out. They are regulars on my play list because they are just simply bloody awesome on so many levels and really lovely peeps too. The Swine Waiter, who never fails to deliver served up what we call the "Swine and Dine" menu, crispy seasoned roast potatoes, slow cooked pork accompanied by fresh crisp salads. Tables were called up one at a time, each aptly named after a well-known festivals, to help themselves to this delicious posh nosh and in case you're wondering I did finally get that crackling that I was promised, thanks Ed ;) The speeches were everything they should have been, hilarious, warming and moving. Boys, you all did very well! Next on the line-up was up was one of our finest performers. Josh Clark aka RemedySounds, an absolute staple (even if we do say so ourselves) for any wedding festival, there really is no one who gets the crowd going as much as this guy. At this point we had moved inside of the marquee and on to the fully kitted out main stage. Now, it's become a bit of a Wedfest tradition when RemedySounds plays to have a bit of a bride and groom dance off, but what was about to happen will definitely go down as one of the finest Wedfest dance off's and there have been a few now! We are pretty prepared for guests shaping moves, but even we weren't ready for the kind of moves that were about to be unleashed on us. The bridesmaids got fully involved sassing it across the dance floor one at a time. Then, as a team, doing roley poleys left right and centre! La piece de resistance however was the bride doing a full on cartwheel IN HER WEDDING DRESS in front of all of her guests, followed by the groom coming back at her with the worm, successfully done one end of the dance floor to the other, boom! Needless to say, the guests were absolutely buzzing by this point and so RemedySounds cut straight back in to his set and had everyone encapsulated with his rendition of Paul Simon's 'You Can Call Me Al'. There's one person I really have to mention here as he gave us so many smiles on the day, just check him out! Sarah's Grandad, aka DOTD, dude of the day! What an absolute legend he was around the venue that day. Pimping up his scooter, right or wrong? Answer; absolutely right! The Hatties played a blinding set next, they always do, a mixture of all the great covers from the 70's right up to modern day hits that everyone knows. These guests were now ready to party and that's what they they did! This is where the inflatables from the Photo Booth really came out in force too, the crowd were almost unrecognisable in multi-colored curly wigs and ridiculous sunglasses, and yes Chris kept a set of bongos on wrapped around his neck ALL NIGHT, I think he became pretty attached to them actually. They suited you Chris! I don't know what it is about fireworks, but everyone, no matter how old or young, bloody loves them. There is a story to tell with this though, a lot was lying on this firework display, at least it was for me. I made the suggestion that we should try and time the fireworks to "Clubbed to Death", doesn't sound very wedding does it?! It's the incredible soundtrack to The Matrix and I my opinion it was written for fireworks. Sarah loved this idea and there it was, our very own timed firework display, now to tell the Sound stage and lights guys and the firework company that I wanted to add a small twist. I thought if I said it quickly enough that it would perhaps just go unnoticed. I did and it didn't. Apparently, these things are harder than one who comes up with these crazy ideas may have anticipated. The thing is, at this stage we were all up for it, it was now a challenge. Walkie talkies in hand, the pyrotechnics one end of the venue, the sound engineer the other end, our crew moving everyone in place, this was our chance to give the Chinese Olympics a run for their money. Ok, that may be a slight exaggeration and I now know that I do not want a job working with timed firework displays. This track starts with a full orchestra for the first thirty seconds, then the bass drops in, it builds and builds right up to another piano solo and then boom, just as the bass kicks in again, that very second, that was the second we wanted the big bang. I stood there holding Chris and Sarah's hands tightly, were we actually going to pull this off? Of course we were, we smashed it down to the second! We won't mention that I ran around shouting I am the Chinese Olympics at that point…but I was. Three hours, three channels, two great DJs and one cheesy Wedfest playlist, it must be silent disco time! At this point in the night everyone is so hyped and just ready to carry on the party and the silent disco does just that. Our friends at Bee Ariel who had been videoing the whole day, were really getting involved at this point too. They did say they would be leaving at 10.30pm as it would be a long day for them. However, I am pretty sure they were still dancing at 2am! These guys are top London videographers and they all said they had never experienced a wedding quite like it! Slowly the odd few people slipped away to bed to the beautiful bell tent village, but the hardcore's were still going, sadly the silent disco had to eventually come to an end at 2am. Sarah had put in a very special request on her wedding wish list and that was for RemedySounds to play some late night unplugged. Josh doesn't let anyone down, least of all a bride on her big day. He played all the classic as the guests sat around having a requests session. By 3.30am, everyone was tucked up after what was yet another fantastic wedding and another happy couple. The obligatory full English baps were served for breakfast the next morning as guests sat about almost in disbelief of what had actually taken place in the Surrey countryside the day before. Thank you Dackfester's you were all tremendous fun, we absolutely loved hosting you and would do it again tomorrow. Most of all, thank you so much to the super lovely Chris and Sarah who let us Wedfest up their big day. You were great to work with, we all wish you a long and beautiful life together with whatever makes you both smile. Love out The Wedfest Crew xxxx #LetsCelebrate