Emma & Lee Woolstock Festival
TWFC crew arrived back at it's birthplace, Pinkmead Farm in Botley, where SJ herself got married and created the first ever festival wedding! This time though, we were here for the 4 day marriage extravaganza of the lovely Emma and Lee.
Our longest festival to date kicked off with our guests arriving with their family and friends to move into their luxurious bell tent homes for the weekend! After getting themselves settled in and acquainted with their new surroundings our bar was officially opened for business – huge cheers were raised to the fun-packed weekend ahead!
Dinner time was soon upon us (cooked by the lovely TSFCC) with the smell of fiery fajitas cooked up by our master chefs travelling through the festival site. As our guests tucked into much needed grub singer-songwriter extraordinaire, Dan Eagle, serenaded the eager crowds with some sweet tunes! After some glorious singalongs last orders at the bar were called, to ensure there weren't too many sore heads on the morning of the big day!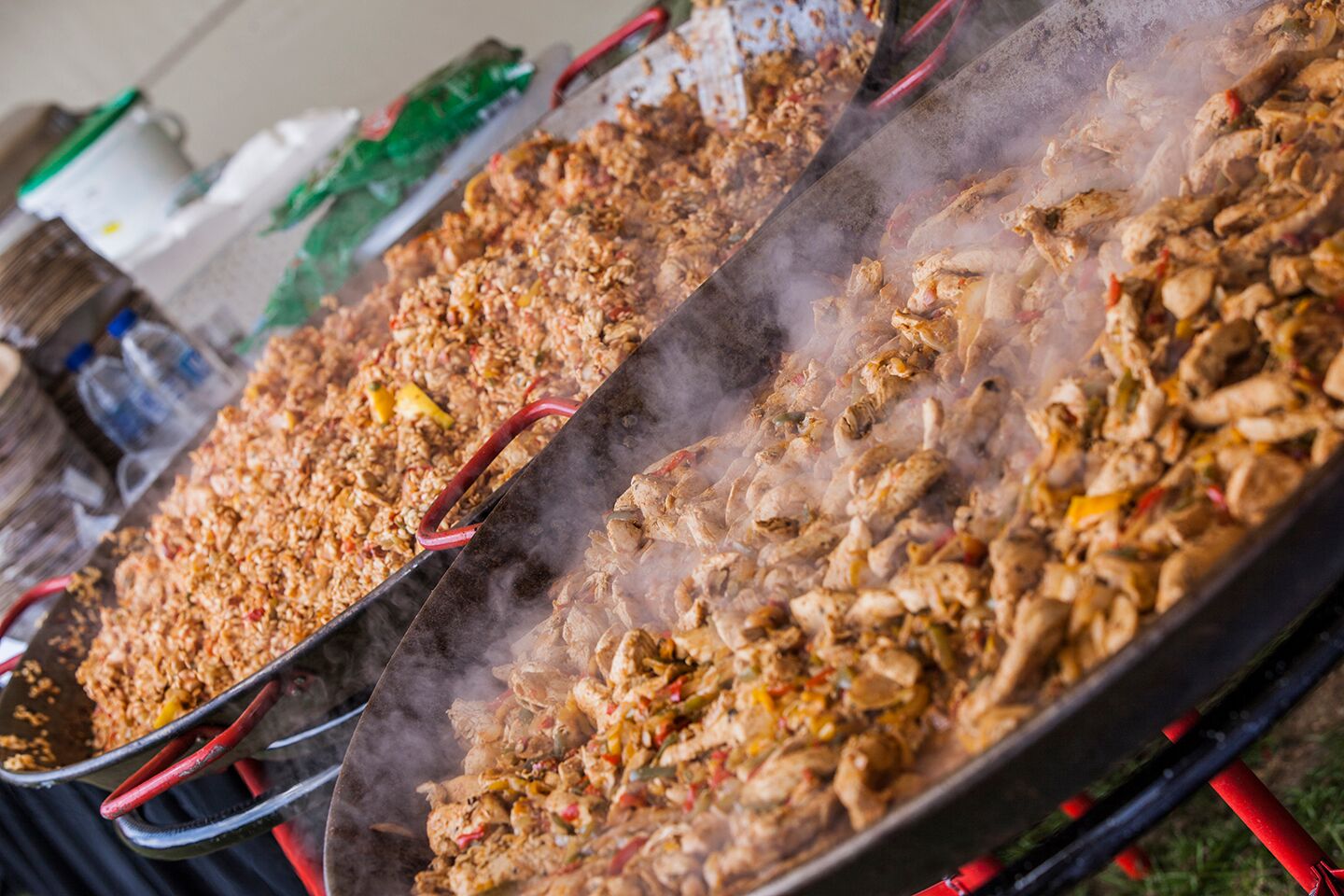 As the Wed Fest Crew were adding the extra gorgeous flowers from The Flower Girl to blessing area, guests were enjoying their breakfast and some well needed coffee to soothe their heads! With the sun shining and the guests as looking glam as can be we were ready and waiting for the bridal party to make their grand entrance. Lee and his brother enjoyed a last minute tipple before making their way down the aisle to wait for Emma!
In true festival style Emma made a grand entrance in a stunning old school VW Campervan, provided by the brilliant folks at Vinnie's Vintage Vehicle! Their blessing was led by close friend Jim who had the guests roaring with laughter as tales of Emma and Lee's romance were recounted. After the special two made their vows official, the sweet tones of one of our favourite performers, Just Millie, sang out the Turtles' classic song Happy Together as bride and groom made their way through the crowds and were showered with confetti.
Just Millie then headed straight for our outdoor stage for more of her acoustic gorgeousness. The glorious sunshine meant our fab guests were out in force cheering her soulful tunes and catching some long overdue summer sun lounging on straw bales.
With wine on the table and their food ready to be served, it was time for the guests to be seated in our Big Top marquee! A major shoutout is deserved for the creator of the seating plan and all the decorative chalkboards! With bursts of colour everywhere and some ingenious use of old CDs this was such a unique and artistic touch to the day! Our guests were treated to not 1, not 2, but 3 delicious big pan favourites! The lucky devils had a choice of our famous paella, fiery chicken fajitas and a flavoursome chicken curry!
As guests tucked into their meals, prosecco was popped and poured ready for the speeches; we couldn't wait to hear them! And boy did they not disappoint – Lee gave a heartfelt and tearful (on his part) message to his new wife and their family! We do love a sensitive soul that is in touch with his emotions – we salute you Lee!
Next up on our main stage were the incredible Electric Eden! They stormed the stage for a fiery set of banging covers, getting all our guests up on their feet!
Something else that got them moving was the Cocktail Happy Hour in our Bollywood Bar! Guests could sip on freshly made cocktails, created by our own team of master mixologists! The cocktails were designed to be unique to the day and our gorgeous couple with names such as;
Woo-Woolon
Emma-retto Sours
Sex in a Tent
Pina Co-Lee-da
Love and Marriage Mojito
The guests lapped them up throughout the night!
A face painter then took over our Bollywood Bar, decorating the faces of the guests – some with more extravagant designs than others! We love having face painters for our events, it really helps to add to the festival vibe – and who doesn't love a bit of glitter?!?
Now for a part that we all love… CAKE! This time served from Mrs G's beautiful Vintage Van, guests could indulge in scrumptious cakes, washed down with a proper cup of tea or coffee – very British indeed.
It was then time for Remedy Sounds to take to the stage and what a set it was – if we weren't fan-girling him enough on events before, we sure did now! He really got everyone going and even created the guests their own song, using their favourite object of the day… those whistles! TWFC crew certainly lost some eardrums in the process…
One of the most memorable moments of his set was definitely the dance off – winners decided by the bride and groom of course! Apparently Strictly hasn't requested any of the guests to be on the next series – shocking isn't it?
The Grooveline's set then commenced with the first dance! Their performance was unforgettable with catchy covers aplenty. This is the first time TWFC have heard this band play this season and we're now hoping it won't be the last as they were absolutely fab.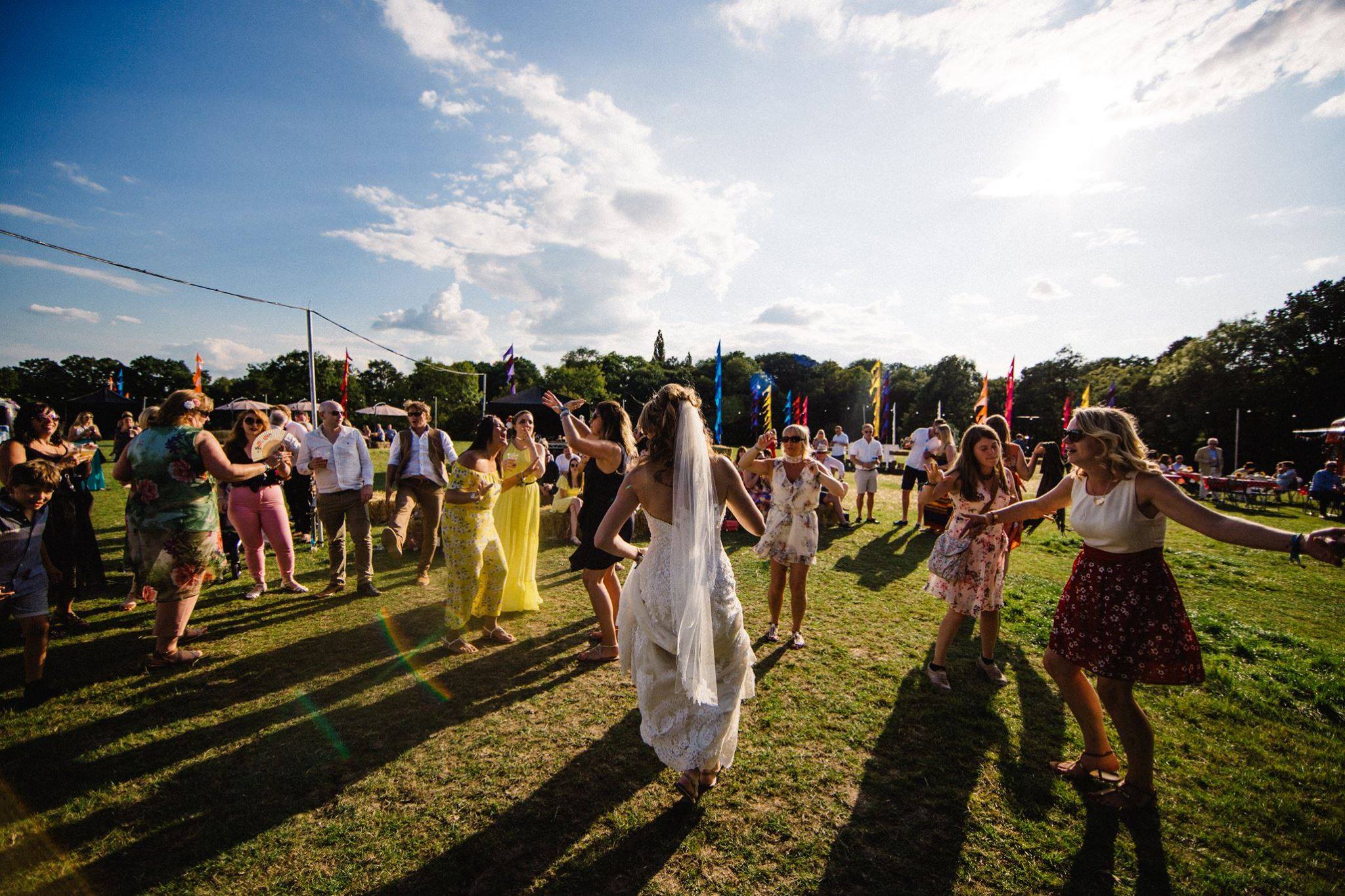 If we weren't being British enough from our vintage tea party van, we certainly would be now, when it was officially time for the Fish and Chips, a firm favourite of our guests! They were served with fluffy chips, proper mushy peas, tartare sauce and lemon wedges – gloriously scrumptious. Although a lot of us are now are suffering with mild obesity, we wouldn't take it back as that food was just so damn good!
The fire pits were then lit for the first time, ready in time for S'mores and the second Happy Hour of the Day. Another happy hour I hear you say?! What can we say, we like to treat our fantastic guests! At one point, Emma became our trusted mixologist, where she creatively improvised with ingredients and generated a snazzy concoction, attemping to make her fave cocktail - a cosmo. We were all pleasantly surprised and would therefore love Emma to work with us full time as our Mixologist – what do you think Emma?! Congratulations to all of our guests, as by the end of the busy hour, they successfully managed to rinse us dry of all our cocktail booze – what an achievement.
It was then time for our headline act, Big Town Boppers to really rock the night away! This REALLY felt like a full-blown festival when watching the band and the guests dance the night away non-stop to their bangin' tunes – who needs Bestival?!
With cocktails in one hand and a toasted marshmallow (or seven) in another, the guests were anticipating the long awaited silent disco. With headphones on and music blaring, it didn't disappoint. All of us here at I Do Festivals also joined in, as the playlists were totally infectious and impossible to not boogie to!
As if that wasn't enough, the midnight snacks were served in the form of Dirty Burgers and Cheesy Chips - thoroughly enjoyed by all, particularly TWFC crew! And no we did NOT have four huge helpings of the cheesy chips…
With full belly's, dizzy heads and sore feet from dancing too much, it was the perfect end to a perfect night as the guests stumbled back to their bell tent village for some needed shut eye before another fun-packed day ahead!
The morning of day 3 certainly saw some sore heads; the only thing for it was our WedMary's, reviving them ready for the sports day soon to come! That's right…a SPORT'S DAY the morning after an incredibly heavy night – what champions they are, we certainly couldn't have done it!!
And what a laugh Sports Day was! Team Bride vs. Team Groom certainly amped up the competition but there could only be one winner… it was of course the girls in Team Bride! Special mention to the full on battle of Tug of War, in which the girls shocked everyone and reigned victorious! Well done to Team Groom as well for being such good sports (even though you lost).
Mr Charlie commenced the afternoon's music, some much needed chill time for our guests who basked in the sunshine. Whilst the adults lounged around recovering, the kids never seemed to leave the bouncy castle, which was undoubtedly a massive hit throughout the entire weekend.
Our famous Hog Roast was served by the TSFCC to the sounds of the Racketeers bringing the party to life…again. TWFC seriously don't know how the guests managed to start drinking again – hats off to the gentleman who started at 10:30am with a double vodka coke!
Our final headliner of the whole weekend was The Underdogs, who were personally recommended to us by Emma and Lee; their tunes were enjoyed by guests whilst they sipped on yet another 2-4-1 cocktail! And with cocktails means snacks are in order too, this time in the form of Cheese and Ham Toasties and Cones of Chips. They were perfect for the evening and finished off once again by our buzzing Silent Disco!
Thanks so much to Emma and Lee for having us, we had a blast and won't forget you guys in a hurry!
Love Chloe, Lauren, Katy and Esme
Xxx
Contact us now to book your Simply Outdoors marquee wedding
View our online brochure for full info here
email – info@weddingfestivalcompany.co.uk
telephone – 020 3281 1070
mobile – 07909 337 016
#LetsCelebrate
​